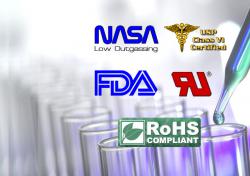 Master Bond grades meet NASA, UL, USP, FDA and other certifications for low outgassing, flame retardancy, biocompatibility, food compatibility and more.
Master Bond products are formulated to the highest quality standards. Compliance testing has been conducted by well established independent testing laboratories, as well as by U.S. government agencies. Our extensive product line includes a variety of compounds that pass strict testing requirements for the following specifications:
Additionally, Master Bond offers one component silicones that meet MIL-A-46146 and MIL-A-46146A Type 1 specifications. These compounds feature superior quality and performance. They are used in many critical applications in a wide range of industries including aerospace, medical, optical, electronic and telecommunications.