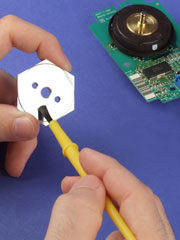 Hard, rigid curing adhesives, sealants and coatings offer high physical strength properties. They are commonly employed in many structural bonding applications. These systems cure at room temperature, upon exposure to heat or exposure to UV light.
Key Benefits of Master Bond's Rigid Curing Compounds
Master Bond's rigid curing compounds are designed to offer outstanding performance in harsh environments. Advantages of this type of system includes:
High tensile and tensile shear strength
Wear resistance
Dimensional stability
Exceptional compressive strength
High glass transition temperature (Tg)
Superior chemical resistant properties
Most Popular Rigid Curing Adhesive Systems
Low viscosity, room temperature curing epoxy adhesive/sealant. 100% reactive. High strength bonds and excellent dimensional stability. Chemically resistant.
Quartz filled, two component epoxy system. Outstanding compressive strength and dimensional stability. Electrical insulation. Exceptionally low shrinkage upon cure.
Optically clear, low viscosity epoxy system. Meets NASA low outgassing specifications. Exceptional chemical resistance. Contains no solvents. High bond strength.
Low viscosity epoxy adhesive/coating. Enhanced thermal stability. Fast UV light cure. Spin coatable. Low shrinkage upon cure. Excellent electrical insulation properties.