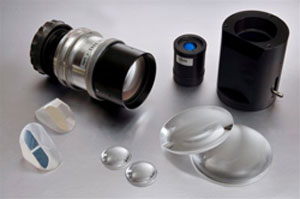 Systems are available that offer exceptional abrasion resistance, high optical clarity, superior protection against moisture/chemicals and thermal stability. Formulations consist of one and two component systems. UV and LED curable compounds require no mixing and are fast curing. Adhesion to glass and most plastic substrates is excellent. Specific grades are designed to bond well to polycarbonates, acrylics and a number of polyester films.
Master Bond optical coatings are low viscosity and solvent-free. Compounds vary in hardness and range from rigid to semi-flexible to flexible. Nanosilica filled products have enhanced performance properties. Systems are manufactured to meet specific requirements. USP Class VI approved and NASA low outgassing certified materials are widely employed in optical, electro-optical and photonic applications.
Learn more about spin coatable UV curable polymers.
Most Popular Optical Coating Compounds
One part, UV curable polymer system. Superior light transmission properties. Low refractive index of 1.481. Excellent dimensional stability. Rapid cure speed. Rigid.
UV curable, nanosilica filled system with excellent abrasion resistance. Easy to apply and fast room temperature curing upon exposure to UV light. Excellent optical clarity.
Meets NASA low outgassing requirements. Excellent clarity and optical transmission properties. Outstanding chemical resistance.
Highly flexible, abrasion resistant elastomeric system. Serviceable at cryogenic temperatures. Low moisture permeability and superior electrical insulation properties.
Heat curable, optically clear epoxy. Serviceable up to 450°F. Excellent dimensional stability.
Fast curing upon exposure to LED light. Cures tack free without any oxygen inhibition. Superior physical strength properties.