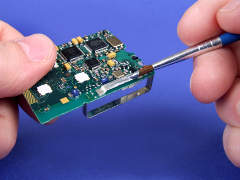 Master Bond offers a number of electrically conductive adhesives filled with silver coated nickel. These compounds provide a more cost effective alternative to silver filled epoxy systems but still exhibit low volume resistivity.
Advanced Properties of Master Bond Silver Coated/Nickel Filled Polymer Systems
Master Bond silver coated/nickel filled adhesives bond well to a wide variety of substrates, including metals, glass, ceramics, rubbers and plastics. Specific grades also offer:
High peel strength
Resistance to thermal cycling
Chemical resistance
Serviceability at extreme temperatures
Low stress
Most Popular Electrically Conductive, Silver Coated/Nickel Filled Adhesives, Sealants and Coatings
Two component, silver coated/nickel filled conductive epoxy. Features high peel strength, superior toughness and low volume resistivity. Serviceable over the wide temperature range of 4K to +275°F.
Highly flexible, silver coated/nickel filled epoxy system. T-peel
>20 pli. Low volume resistivity. High bond strength to similar and dissimilar substrates. Resists exposure to thermal cycling.