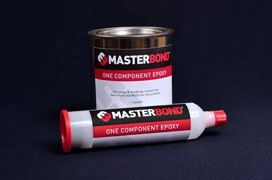 Specially formulated one component epoxy systems feature outstanding performance properties, long-term durability and easy application. These no mix compounds cure quickly at moderate temperatures. They are designed to increase productivity and eliminate waste.
Key benefits and common applications featuring Master Bond one component epoxy systems.
Special Certifications for One Part Epoxy Compounds
Many of Master Bond's one part adhesives, sealants and coatings are approved for use in various applications and industries. Additionally, specific grades meet the following certifications:
NASA low outgassing
USP Class VI for biocompatibility
Halogen free
Performance Properties
As with all products in the Master Bond family, specific grades vary in viscosity, cure speed, chemical resistance and electrical properties, but can be custom formulated to meet your application needs.
Some Popular One Part Epoxy Adhesives, Sealants, Coatings and Potting Compounds
EP17HT-LO

One part, no mix epoxy meets NASA low outgassing specifications. Serviceable up to 650°F. Tg is 225°C. High shear, tensile and compressive strength properties. Cures in 90-120 minutes at 300F. Withstands 1000 hours 85°C/85% RH.

EP15

No mix compound has exceptional tensile strength properties. Superior dimensional stability. Used for testing the adhesion and/or cohesive strength of flame sprayed coating per ASTM C633. Low shrinkage upon cure. Viscosity 40,000-65,000 cps. Serviceable from -60°F to +250°F.

Supreme 3HT-80

Fast cures at ambient 175°F (80°C). Recommended for bonding heat sensitive substrates. Outstanding thermal cycling capabilities. Single part no mix system. Serviceable from -100°F to +350°F. Tough and durable. Withstands 1,000 hours at 85°C/85% RH.

EP3HTMed

Rapid curing, one part epoxy. Meets USP Class VI biocompatibility standards. Thixotropic paste viscosity. High shear strength. Superb resistance to autoclaving, chemical sterilants, radition, EtO. Serviceable from -60°F to +400°F.

Supreme 10ANHT

Thermally conductive version of our one part Supreme 10HT epoxy system with excellent heat transfer properties. Outstanding bond strength. Thermal conductivity 20-25 BTU ·in/ft2 ·hr/°F. Serviceable from 4k to +400°F. Superior durability. Versatile cure schedule at elevated temperatures. Can withstand prolonged exposure to water, fuels, oil, organic solvents. Gray color.

EP3HTS

Silver filled electrically conductive epoxy adhesive has a rapid cure speed. Low volume resistivity and high temperature resistance. Superior bond strength. Thermally conductive. Smooth paste, consistency. Dispensible from syringe applicator. Serviceable from -60°F to +400°F.