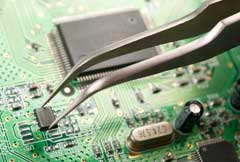 From conformal coatings to surface mount adhesives or from conductive films to thermal management products, Master Bond is leading the way in electronic assembly applications. Our line of epoxies, silicones, polyurethanes, polysulfides, cyanoacrylates and UV cures feature innovative solutions to challenging industry requirements.
Benefits of Master Bond Electronic Grade Compounds
Master Bond is actively engaged in developing new products for advanced electronic systems. Our compounds offer the following advantages:
Widest range of formulations
Consistent reproducible high performance systems
Latest technology
Easy application—simple packaging (including premixed and frozen syringes)
Available direct from manufacturer
Custom formulations available
One and Two Component Systems to Meet the Needs of the Electronic Assembly Industry
Low viscosity, thermally conductive potting, bonding and sealing compound. Cures at room temperature. Superior electrical insulation properties. High compressive strength.
Two component epoxy system. Extra low thermal expansion coefficient and unmatched dimensional stability. Bonding, sealing, casting compound. Passes NASA low outgassing specifications.
One part epoxy adhesive offers high peel and shear strength properties. Exceptional thermal conductivity. Serviceable from 4K to +400°F. Resists vibration, shock and thermal cycling.
Two part, ambient temperature curing epoxy potting/encapsulation compound. Thermally conductive/electrically isolating. Very low exotherm. Suitable for large castings.
One part epoxy. Cures in 2-3 minutes at 250-300°F. Service operating temperature range -60 to +400°F. Ideal for bonding dissimilar substrates and applications subject to thermal cycling.
Flexibilized, thermally conductive, electrically insulative potting compound. Excellent flowability. Low thermal expansion coefficient. Superior dimensional stability.
Dual cure, low viscosity, one part system. Cures by UV light and by heat at 125°C in shadowed out areas. Offers excellent environmental protection.
Superior one part glob top. Outstanding dimensional stability and temperature resistance. Fast cures at 125-150°C.