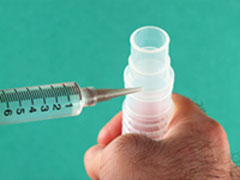 Silicone substrates are most often bonded by the use of silicone adhesives. Adhesion can be enhanced by roughening or cleaning the parts to be bonded and through the use of silicone primers. A newly developed approach that allows for bonding of silicone substrates with non-silicone type adhesives, such as epoxies, involves the pretreatment of silicone substrates with gas plasma.
Learn more about bonding silicone elastomers.
Master Bond Adhesives, Sealants and Coatings for Bonding Silicone Elastomers
Addition cured silicone. Will not outgas while curing. Resists up to +400°F. Soft durometer. Offers repairability. Paste consistency. Long pot life.
One part, fast curing, high performance silicone adhesive. Provides protection against vibration and shock. Self leveling. Non-corrosive system.