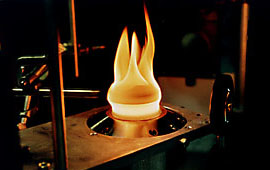 Master Bond's specialty flame resistant epoxies are certified to the UL 94V-0 specification and feature superior performance properties even upon exposure to adverse environmental conditions. These advanced formulations are ideal for potting and encapsulation applications in many high tech industries. They are self extinguishing and have superior electrical insulation properties.
Common Applications Featuring Master Bond's Flame Resistant Epoxies
Potting of power supplies
Audio and signal transformers
Aerospace switches
Sensors
Most Popular Flame Retardant Epoxy Compounds
Two part epoxy that meets UL 94V-0 specifications. Used primarily for potting and encapsulation applications. Convenient one to one mix ratio. Cures at room temperature. Excellent resistance to fuels and lubricants.
Room temperature curing system. Minimal smoke generation. Halogen free filler. Flame retardant per UL 94V-0 standard. Superior durability.