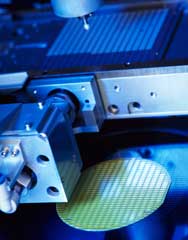 Cutting edge snap cure adhesives facilitate speedy productivity and feature convenient handling. These single component systems require no mixing and are designed to cure rapidly at moderate temperatures. Their short cure cycle results in energy and cost savings. Available for use in a variety of viscosities, these compounds are easy to apply and offer excellent bond strength. Additionally, they have superior resistance to adverse environmental conditions.
Types of Snap Cure Adhesives
Electrically conductive
Thermally conductive
Electrically insulative
Most Popular Snap Cure Adhesives
No mix epoxy adhesive cures in 1-2 minutes at 300°F. Good flow properties. High bond strength. Readily repairable. Stands up to thermal cycling as well as impact/shock.
Heat curing, one component, toughened epoxy adhesive/sealant. High shear and peel strength properties. Serviceable from 4K to +400°F. Resists impact, vibration and stress fatigue cracking.
One part, no mix, silver conductive epoxy adhesive. Resistant to water and many chemicals. Serviceable from 4K to +400°F. High peel and shear strength properties. Low volume resistivity. Withstands severe thermal cycling.
Single component, high performance snap cure adhesive. Superior electrical conductivity. Nickel filled system. Non-drip, non-sagging compound. Solvent free. Exceptional peel and shear strength properties.